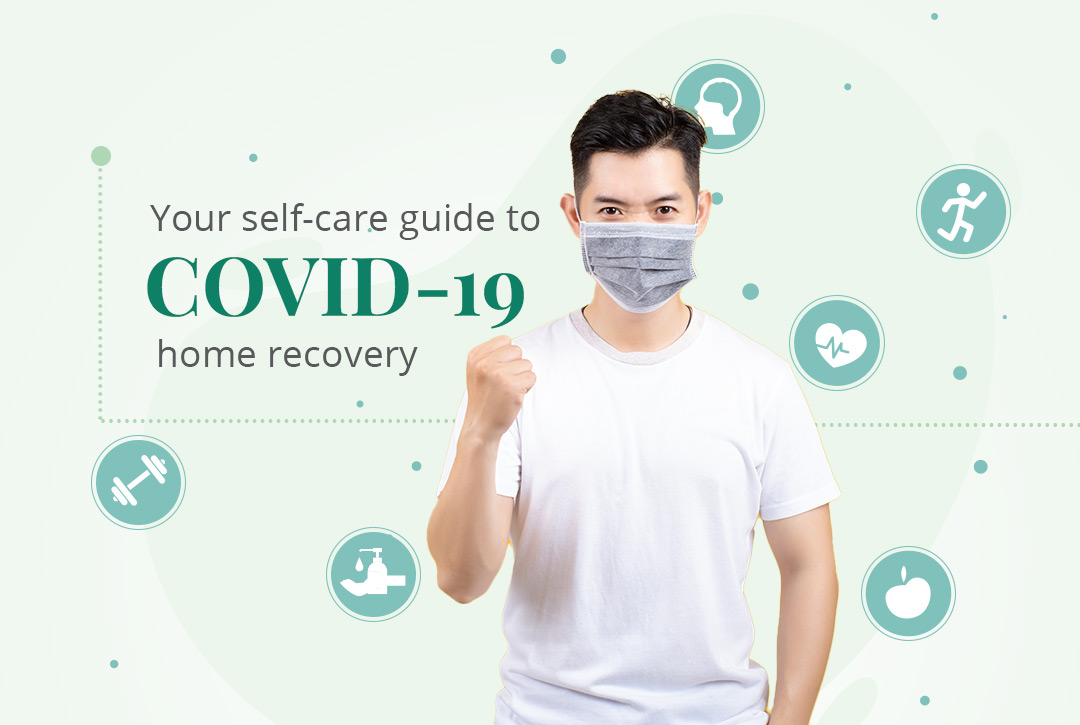 Do you ever feel stressed and uncertain about how it would be to live with COVID-19 in the new normal? Many of us feel the same as we are constantly presented with challenges brought forth by the pandemic.
As our nation faces a record wave of COVID-19 infections, home recovery has become the default care arrangement in response to the overwhelming demand for healthcare. According to the Ministry of Health (MOH), over 70 per cent of COVID-19 patients are currently recovering at home.
If you have been tested positive for COVID-19 recently and is eligible for home recovery, you might be wondering what is next. While it is normal to feel unsettled when you are down with the virus, there are ways to cope with your physical and mental well-being during this period of self-isolation.
In this guide, we will share some tips on how you can practise self-care while recovering at home.
First Step of Home Recovery
During home recovery, the first critical step is to avoid physical social interaction with anyone. You will need to prepare for self-isolation by staying in a separate room that is preferably attached to a bathroom.
In the meantime, continue to monitor your temperature, pulse rate, and oxygen saturation daily. Contact your telemedicine provider if you feel unwell or experience any of the following symptoms:
Fever
Trouble breathing
Acute respiratory infection symptoms such as cough, sore throat, runny nose
Preventive Measures
Taking care of your physical well-being includes being responsible for your loved ones and others. Besides refraining from physical social interaction, you will need to be mindful of these measures to prevent the virus from spreading.
Hygiene and Disinfection
Wash your hands frequently with soap and warm water for at least 20 seconds. Avoid touching your face with unwashed hands.
Sanitise your hands with an alcohol-based sanitiser that contains at least 60 per cent of alcohol.
Use disposable utensils and cutlery if possible. Otherwise, wash them with soap and warm water immediately after use.
Avoid sharing any household or personal items with your household members. Wash or clean them thoroughly and separately after use.
If you have caregivers, ensure that they practise preventive care, including wearing gloves and masks before handling your items.
Clean and disinfect all surfaces in your room with a household detergent at least once a day.
Distancing from Others
Always wear a mask if you have to leave your room.
Ensure that nobody is near your doorway before leaving your room. Return to your room quickly after completing your task.
Consider making delivery arrangements for your meals, especially if you are staying alone.
Keeping Your Mental Health in Check
Besides using this period of self-isolation to recuperate, it is equally important to look after your mental well-being. It is easy to feel anxious and stressed under strained circumstances, and you may be overwhelmed trying to cope with the sudden changes.
Promoting your mental well-being can work in different ways. Try out these activities to keep your mind calm and positive:
Stay Active
Besides boosting your physical health, exercise can help to improve your mood and aid in sleep. Yoga, workout, or stretching exercises are all ideal to do at home. Get some inspiration from online videos to kick-start your fitness routine.
Meditation
Meditating involves deep breathing techniques that can relieve your stress and anxiety. Schedule a 10-minute meditation break in between tasks to calm your mind and soul.
Curate a Music Playlist
Jamming to your favourite songs is one of the effective ways of uplifting your mood and reducing anxiety.
Pick Up a New Hobby
Always wanted to master a musical instrument, learn a new language or pick up the habit of reading? Take this time to discover your interests while keeping yourself occupied.
Improving Your Immune System
You are likely to lose your sense of taste and smell when you are down with the COVID-19. Due to the loss of these senses, you may experience a decrease in appetite. However, having proper nutrition and drinking sufficient fluids are vital in fostering a better immune system during your recovery.
Besides that, did you know good quality sleep also helps your immune system to fight off infections?
To aid in boosting your immune system, here are some recommended foods for your daily intake:
Protein-rich foods such as eggs, fish, chicken
Plant-based alternatives such as whole grains, tofu, nuts, seeds
Vegetables such as spinach, kale, broccoli that contain rich sources of vitamin A, iron, and folate
Fruits high in vitamin A and C such as orange, papaya, mango
If you do not feel like eating, consuming fluids such as nourishing soups, low-fat milk or yoghurt will help you stay hydrated too.
Having a well-balanced diet will ensure that you get the right vitamins and minerals for faster recovery. Health supplements that contain vitamin C, vitamin D and Zinc may also prove to be beneficial in strengthening your immune system.
Consult your telemedicine provider if you have any dietary or health concerns when taking certain foods and supplements.
Recovering from COVID-19 may seem like an arduous journey, but it can be remedied with proper self-care. Once discharged from home recovery, continue to monitor your health and reach out for medical assistance whenever necessary.
As our nation continues to fight against COVID-19, let us do our part in protecting ourselves and our loved ones.