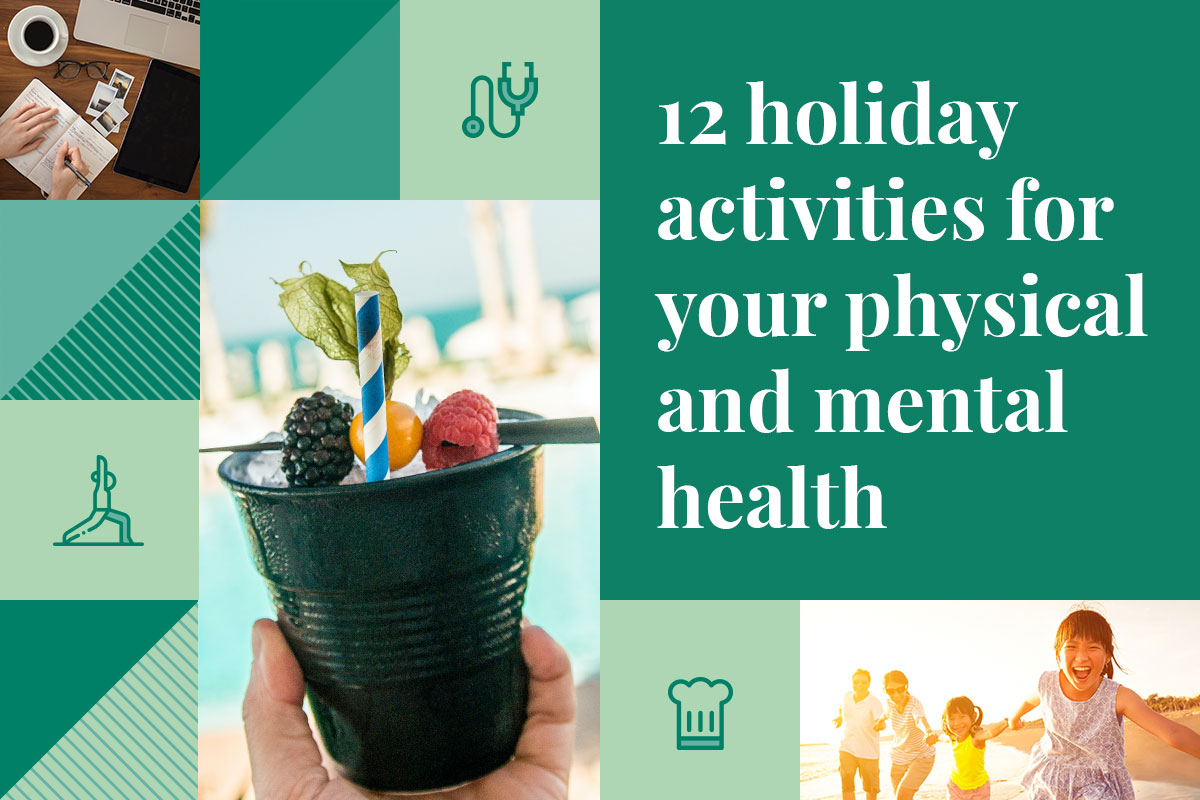 Deck the halls with boughs of holly, fa la la la la, la la la la~ 'Tis the season to be healthy, fa la la la la, la la la la~
Once again, it is the time of feasting and gathering!And yes, this might pose as a challenge for us to stay healthy during festivities, especially with all the eating. However, celebrations are a little different and quieter this year, so why not take this time to focus a little more on health and self-care? Let's create a holiday focused on health where you can truly enjoy and reap its benefits. Here are 12 activities for you to kick off a healthier Christmas / year-end countdown.
Allocate play time for and with your children
Children face pressure just like adults and it is important to actively manage child stress. With school and extra-curricular activities, children also need downtime to rejuvenate and recharge. Engage your child with activities that relief pressure and stress. There should be no lessons or competition to these games and activities. Family support is paramount, and it is important not to let your child overwork.
Aromatherapy
Tired after a long challenging year? Take some time to wind down and relax. Aromatherapy can be a tool help you relax, bringing calm to your body and mind. You may use incense, candles or essential oils through diffusers, bathing salts, body oils and lotions as well as facial masks. Scents such as lavender, chamomile, green tea and sandalwood are known to be soothing and often used for relaxation and its calming effects.
Catch up on your sleep debt
It is important for children and adults alike to have sufficient sleep and rest. Did you know that the lack of sleep is a key contributing factor for many health complications? If you are having trouble falling asleep, try creating a bedtime ritual by creating a routine and repeating habits each night before going to bed. This helps to remind your body that it is time to slow down and transit into sleep. A good bedtime ritual may include taking a warm bath, reading a book, listening to soothing music, and even aromatherapy.
Exercise
There are countless benefits of exercising. Not only does it help you keep fit and stay in shape, it also helps to relieve stress, calm the mind and improve your mood. Exercising together with your friends or family members is also a great motivational tool to staying healthy. If you just started exercising, be mindful to progress slowly from low to high impact activities and not put your body through unnecessary stress.
Lower Impact
Higher Impact

Walking
Swimming
Cycling
Rowing
Performing aerobic routine in shallow water

Jumping rope
Running
Performing high impact routines or step aerobics
Kick boxing
Performing aerobic routine in shallow water
Explore healthier holiday recipes
Are you planning to whip up a Christmas/ year-end feast? Why not explore and experiment different ways to turn your feast into a healthier one? Try making sweet potato pie using multigrain flour instead of your regular flour to reduce excess sugar intake. Use olive oil to grease your baking pans and dishes instead of butter or margarine. Create your dips using low-fat yoghurt as a healthier alternative to mayonnaise. Aside from your typical turkey meat stuffing, you may also opt for fruits and nuts stuffing. Psst, apricot, cranberry and macadamia nuts stuffing make a great combination ;) Who said healthy food cannot be delicious?
Unplug from social media and technology
There's no doubt that 2020 has been a very virtual year. Take this holiday season to unplug from social media and technology and just focus on some quality family, friends and me time. Get your digital detox by choosing to limit screen time on your phones or simply unfollow or unsubscribe to content that makes you feel anything less than happy. Go old school and try good old fashioned board games with friends and families instead of using digital devices. You'll surprise yourself with how much fun you'd have!
Go solo
Have you ever taken yourself out on a date? Try to take some time out for yourself every day and do something you enjoy, even if it is a short 15-20 minutes. Book yourself a massage, take a slow walk in the park or even just cozying up in your home with your comfort food is good enough to restore and lower your stress and anxiety levels. It is never too late to start investing in yourself.
Journaling
Cultivating the habit of writing and journaling your thoughts, is a good way to process and organise your thoughts. Not to mention, it can be a way to preserve your memories and look back upon them years down the road. If you are someone who is more visual in nature, you may use different colored pens to help you identify different emotions and situations or even include photos or other visual cues. You may also try doing up simple mind maps or drawing to express your inner self. Let the artist in you flow!
Pick up a new skill
Still thinking how or where to clear your annual leave? Why not spend it on learning a new skill, getting hands-on experience and make pottery or clay accessories? How about trying a Christmas tradition with your child like building a gingerbread house? Or make a difference in someone's life when you learn a lifesaving skill? With a myriad of activities in Singapore, there is no reason to mope around at home during the holidays even though travelling is on hold.
Connect with a friend or family member
Maintaining a balanced social life helps to keep the mind occupied and fulfilled. Social support is also important during life's many challenges. Is there someone you have been meaning to reach out to? Perhaps you have not had the time this year to spend and reconnect withfriends and family members? Christmas is a perfect excuse to reconnect with people you care about.
Spend time with nature
More than often as we get caught up in the hustle and bustle of life, consciously or sub-consciously, we are constantly dealing with stress and anxiety. Spending some time away from the concrete jungle may help you to relax, de-stress and feel more positive. Take the day off to bum at the beach, go for a hike or even ferry out to nearby islands like Pulau Ubin or Lazarus island. Did you know there is such a thing called the forest therapy too?
Take an annual health screening
Regular health screening plays an important role in maintaining good health especially as you age. Grab a friend or two to go for a check-up together. It can also be a great gifting idea for your loved ones to show you care about their health. Regular health screenings help with early detection of treatable medical conditions, the best gift is health! Managing your physical and mental health can be a fun and beneficial process. As we celebrate the holidays a little differently this year, we can still make this season meaningful through thoughtful activities and gifting.