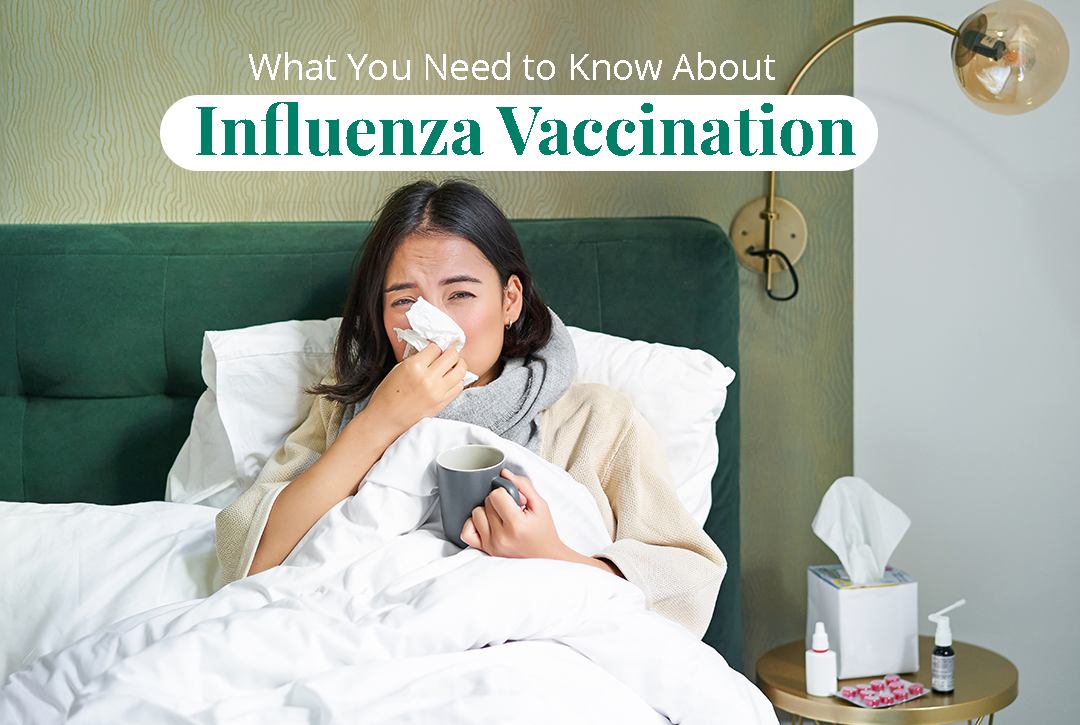 What is influenza and how does it affect me?
Seasonal influenza, commonly called "the flu," is caused by influenza viruses. Transmission occurs through respiratory droplets during coughing and sneezing. Unlike the common cold virus, influenza can potentially cause severe illness and life-threatening complications especially in older people, young children, pregnant women, and those with certain health conditions.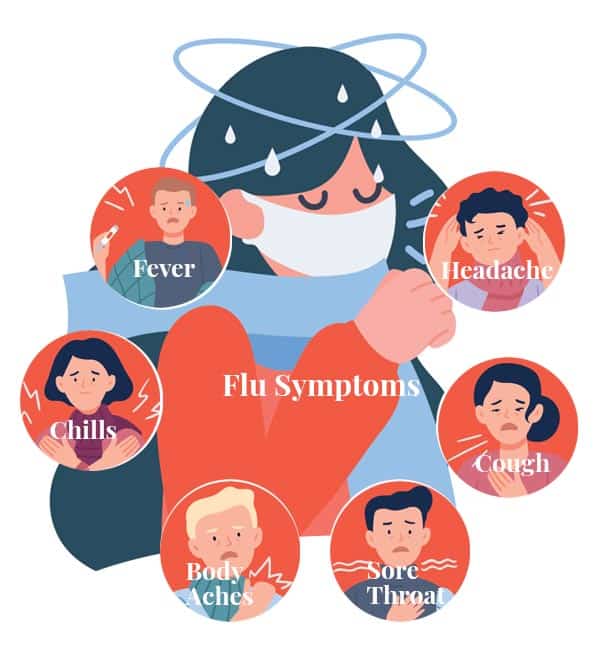 Who should take the influenza vaccination?
The flu vaccine is recommended for ALL healthy adults, children (6months and above), frequent travellers and caregivers. It is STRONGLY recommended for the following groups of people who are at higher risk of complications:
Elderly people aged 65 years and above.
Young children from 6 months to under 5 years of age.
Pregnant women at all stages of pregnancy.
People with chronic medical conditions (e.g. heart and lung disease, chronic liver and kidney disease, diabetes, stroke, dementia, Parkinson's disease, intellectual disability etc.).
People with blood disorders (e.g leukaemia, lymphoma, multiple myeloma and thalassemia major).
People with chronically suppressed immunity due to disease, cancer treatment, or long-term medication such as corticosteroids or biologics.
People who stay in intermediate or long-term care facilities (nursing homes, hospices, etc).
Children and adolescents aged 6 months to 18 years who are receiving long-term aspirin therapy.
In addition, persons staying in close-living environments should also undergo influenza vaccination. They include:
Foreign workers living in all forms of dormitories and private residential premises. In particular, those working in construction, marine and processes sectors.
Staff working in the following facilities: Custodial and residential facilities, such as homes and shelters; Communal living facilities; Cruises, ferries; hostels, such as boarding and guest houses.
Is there a waiting interval between taking the influenza vaccine and covid-19 vaccine?
A person can be vaccinated with COVID-19 vaccine, even if the person had received a non-COVID-19 vaccine (e.g. influenza vaccine) within 14 days of the COVID-19 vaccination. An interval of at least 14 days before or after a non-COVID-19 vaccine is encouraged.
What are the influenza vaccines currently available in Singapore?
The quadrivalent influenza vaccine is the most common vaccine-type administered in Singapore. It is often injected into the Deltoid muscle of the upper arm or the outer aspect of the thigh. It protects against two 'A' strains and two 'B' strains of influenza. The influenza vaccine is released twice a year – in second quarter (Southern Hemisphere, SH) and the 4th quarter period (Northern hemisphere, NH ). Each new release incorporates the latest circulating Influenza A and B strains, based on surveillance data from the W.H.O.
What is the current recommendation for flu vaccination?
The 2023/2024 NH influenza vaccine differs from its previous 2023 SH vaccine in terms of one influenza 'A' H1N1 strain. Hence, persons who received the 2023 SH vaccine or earlier vaccines (even if vaccination was received less than a year ago), should consider getting vaccinated with the 2023/2024 NH influenza vaccine to achieve a more complete protection against seasonal influenza. For optimal protection, vaccination is recommended early in the season. The NH vaccine can be administered after the SH vaccine after a minimum interval of 1 month.
The current composition of the 2023 SH seasonal influenza vaccine (egg based) vaccine is as follows:
an A/Victoria/4897/2022 (H1N1) pdm09-like virus ( differs from 2023 SH vaccine strain);
an A/Darwin/9/2021 (H3N2)-like virus;
a B/Austria/1359417/2021 (B/Victoria lineage)-like virus; and
a B/Phuket/3073/2013 (B/Yamagata lineage)-like virus.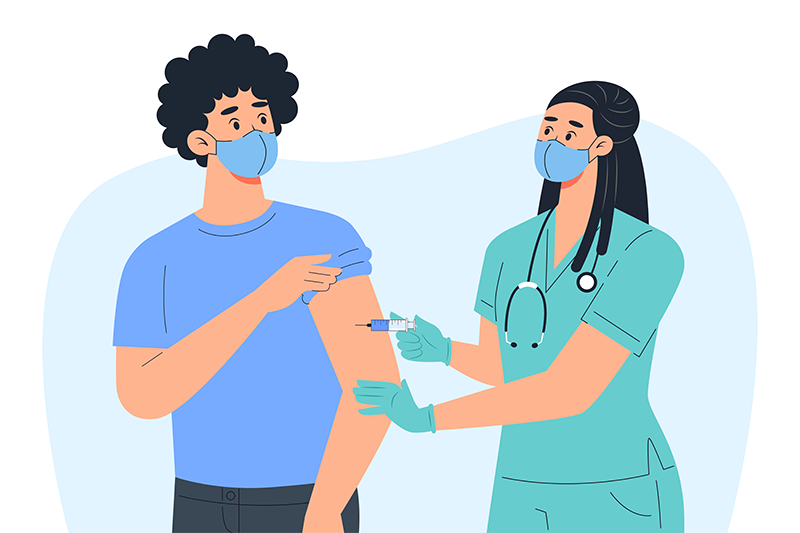 What are some common side effects of the flu vaccine?
Some common side effects include headache, body aches, fatigue, redness, swelling and pain over the injection site. However, these occur in less than 10% of vaccinated patients, are often mild, and will resolve by themselves.
Are there serious side effects associated with the flu vaccine?
Serious side effects occur very rarely and are much lower than the risk of having severe complications from influenza. These include:
Allergic reactions leading to rash, low blood pressure, facial swelling and breathlessness.
Blood vessel and blood disorders such as lowered platelet levels and blood vessel inflammation, lymph node swelling.
Nervous system disorders such as fits and progressive muscle weakness (Guillain-Barre Syndrome) which are extremely rare at one in a million cases.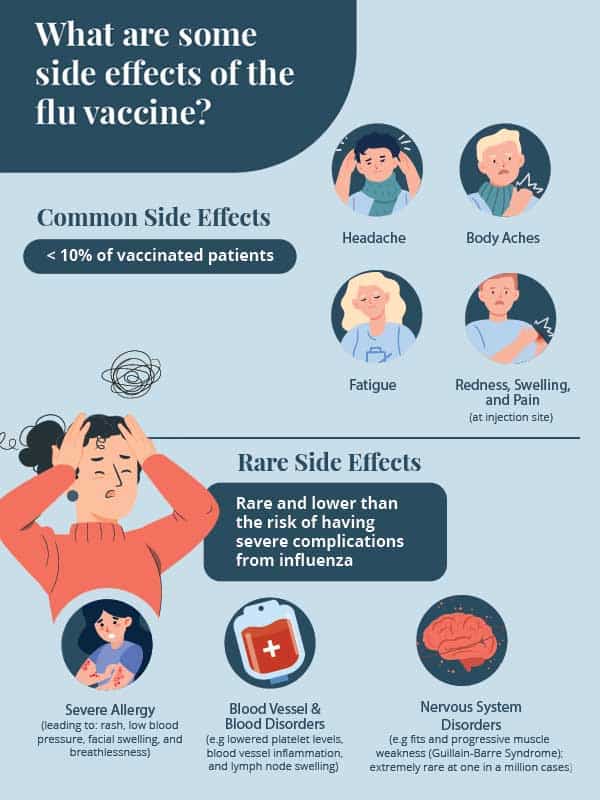 When should I avoid the flu vaccination?
If you are feeling unwell or having a fever.
If you are known to have a severe allergy to antibiotics such as neomycin, gentamicin, and polymyxin B.
If you previously had a severe allergic reaction to the influenza vaccine, regardless of the component suspected to be responsible for the reaction.
Persons who have a history of severe egg allergy (i.e. symptoms other than hives) are recommended to have the flu vaccination done in a controlled hospital setting.
Where can I receive the influenza vaccination?
The latest 2022-23 NH influenza vaccine is available at most Raffles Medical clinics. Alternatively, they can also be purchased online here before visiting the clinic.
Is the seasonal influenza vaccination chargeable for patient's enrolled under Healthier SG?
Under Healthier SG, eligible individuals with selected health conditions (eg Diabetes, kidney disease, lung conditions, etc or if they are 65 and above) can receive the influenza vaccination for free at the Raffles medical clinic they have chosen to be enrolled in.
This article is contributed by:
Dr Michael Wong, Family Physician & Consultant, Raffles Medical